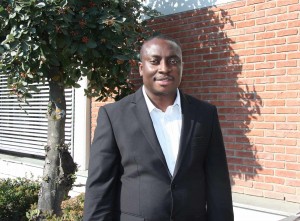 Ebenezer Paintsil defended his doctoral thesis about information security on Thursday 12th of September.
Ebenezer Paintsil is associated to NISlab (Norwegian Information Security laboratory) at Gjøvik University College.  Title of the dissertation: Privacy and Security Risks Analysis of Identity Management Systems.
He is the first student affiliated with the Norwegian COINS Research School of Computer and Information Security  that graduates with a Ph.D. degree.
The thesis develops a risk model and model-based risk analysis method for privacy and security risks analysis of identity management systems (IDMSs) in order to reduce cost and provide scientific support for the choice of identity management approaches. Model-based risk analysis methods can assist system stakeholders in understanding a risk analysis process because of their effective use of graphical models to facilitate participation, risk communication and documentation. These graphical risk models communicate what can go wrong in a system and assist in the security risk analysis.
This thesis develops a balanced approach to risk analysis where systems' characteristics and tools that hide complex mathematics are relied upon to analyze privacy and security risks in IDMSs. It provides new knowledge on how to develop risk models for IDMSs from the characteristics of information that flow in them.
Congratulations!