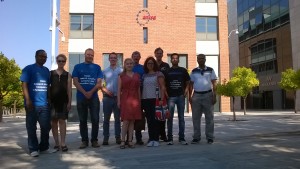 ENISA is the European Network and Information Security Agency. Their objective is to provide input to the European Commission on policy level and to coordinate activities of member states with respect to information security. Most of the COINS students attending the COINS summer school on cloud security took part in a visit to ENISA at their main site in Athens, Greece.
We were welcomed by Vangelis Ouzounis, the Head of Unit Critical Information Protection. Despite the August holiday season in Greece, many of ENISA's expert staff was on site and discussed hot topics in information security with us: securing cloud, smart cities, training and cybersecurity challenge, and cyber crisis cooperation. We had intensive discussions in the group as well as in one on one meetings. Hanno Langweg, Scientific Director of COINS, gave a presentation of COINS to ENISA.
Thanks for welcoming us in Athens and hosting us! It was a pleasure to be there and it made a lasting impression on students.