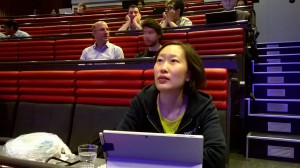 SWITS is in several aspects like COINS, or, more precisely, COINS continues to learn a lot from SWITS – the Swedish IT Security Network for Ph.D. Students. We visited the annual SWITS seminar, this time in Linköping. Bo Sun participated as a COINS student this year.
More than 70 people had registered, coming from all Swedish academic institutions that are active in Ph.D. training in the information security field. The spirit of the SWITS seminars encourages everyone to contribute with a presentation, leading to 35 talks within one and a half days. It gave a good impression of what is happening in IT security research in Sweden and of regional focus areas.
On the first day of the seminar, one of the three parallel workshop sessions was dedicated to cooperation between SWITS and COINS. We discussed research groups and the impact of the recently started IKTPLUSS projects on Ph.D. positions in Norway.
Of special interest to SWITS and COINS were:
We again invite some SWITS students to join our COINS summer school. This year, the topic will be authentication.
For 2017 we plan a joint SWITS/COINS Ph.D. seminar at Voksenåsen. It is a special place, dedicated from Norway to Sweden in gratitude for support during World War II. It will take place Thursday 8 June and Friday 9 June 2017. Save the date!
The seminar included a visit to the Military Aircraft Museum in Linköping where a dinner was held.