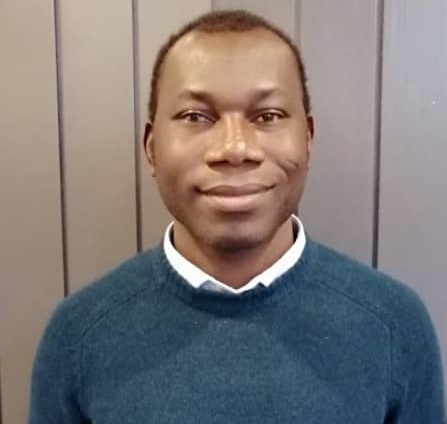 Prosper Yeng
Ph.D. started in: 2019
Expected year of graduation: 2022
COINS consortium member: Norwegian University of Science and Technology
Supervised by: Bian Yang
Links:


Research area: Security Management
Project title: Healthcare Security Practice Analysis, Modeling and Incentivization
Project description: Analyzing and modeling healthcare staffs' security practices by observing their practices. The observation is done through modeling their access control related data. The psycho-socio-cultural and socio-demographic characteristics relating to information security would also be modeled and analyzed. The gap between the staffs' behavior and the expected security practices are obtained in the form of metrics. Incentivization techniques are then used to bridge the gap.
Publications:

Muhammad Ali Fauzi, Prosper Yeng, Bian Yang, Dita Rachmayani (2021). Examining the Link Between Stress Level and Cybersecurity Practices of Hospital Staff in Indonesia
Peter Nimbe, Benjamin Asubam Weyori, Prosper Yeng (2021). A Framework for Quantum-Classical Cryptographic Translation
Prosper Yeng, Muhammad Ali Fauzi, Bian Yang (2021). Assessing the effect of human factors in healthcare cyber security practice: An empirical study
Prosper Yeng, Livinus Obiora Nweke, Bian Yang, Muhammad Ali Fauzi, Einar Arthur Snekkenes (2021). Artificial Intelligence–Based Framework for Analyzing Health Care Staff Security Practice: Mapping Review and Simulation Study
Prosper Yeng, Adam Szekeres, Bian Yang, Einar Arthur Snekkenes (2021). Mapping the Psychosocialcultural Aspects of Healthcare Professionals' Information Security Practices: Systematic Mapping Study
Prosper Yeng, Stephen Dirk Bjørn Wolthusen, Bian Yang (2021). Adopting Vulnerability Principle as the Panacea for Security Policy Monitoring
Livinus Obiora Nweke, Prosper Yeng, Stephen Wolthusen, Bian Yang (2020). Understanding Attribute-based Access Control for Modelling and Analysing Healthcare Professionals' Security Practices
Prosper Yeng, Muhammad Ali Fauzi, Bian Yang (2020). Comparative analysis of machine learning methods for analyzing security practice in electronic health records' logs.
Prosper Yeng, Muhammad Ali Fauzi, Bian Yang (2020). Workflow-based anomaly detection using machine learning on electronic health records' logs: A Comparative Study
Prosper Yeng, Livinus Obiora Nweke, Ashenafi Zebene Woldaregay, Bian Yang, Einar Arthur Snekkenes (2020). Data-Driven and Artificial Intelligence (AI) Approach for Modelling and Analyzing Healthcare Security Practice: A Systematic Review
Prosper Yeng, Ashenafi Zebene Woldaregay, Terje Geir Solvoll, Gunnar Hartvigsen (2020). Cluster detection mechanisms for syndromic surveillance systems: Systematic review and framework development
Prosper Yeng, Stephen D. Wolthusen, Bian Yang (2020). Comparative analysis of software development methodologies for security requirement analysis: Towards healthcare security practice
Prosper Yeng, Stephen Dirk Bjørn Wolthusen, Bian Yang (2020). Comparative Analysis of Threat Modeling Methods for Cloud Computing towards Healthcare Security Practice
Prosper Yeng, Stephen Dirk Bjørn Wolthusen, Bian Yang (2020). Legal requirements toward enhancing the security of medical devices
Ogerta Elezaj, Sule Yildirim Yayilgan, Mohamed Ali Saleh Abomhara, Prosper Yeng, Javed Ahmed (2019). Data-driven Intrusion Detection System for Small and Medium Enterprises
Prosper Yeng, Peter Nimbe, Benjamin Asubam Weyori, Terje Solvoll, Bian Yang (2019). Web Vulnerability Measures for SMEs
Prosper Yeng, Ashenafi Zebene Woldaregay, Gunnar Hartvigsen (2019). K-CUSUM: Cluster Detection Mechanism in EDMON
Prosper Yeng, Ashenafi Zebene Woldaregay, Gunnar Hartvigsen (2019). K-CUSUM: Cluster Detection Mechanism in EDMON
Prosper Yeng, Bian Yang, Einar Arthur Snekkenes (2019). Healthcare Staffs' Information Security Practices Towards Mitigating Data Breaches: A Literature Survey
Prosper Yeng, Bian Yang, Einar Arthur Snekkenes (2019). Observational Measures for Effective Profiling of Healthcare Staffs' Security Practices
Prosper Yeng, Bian Yang, Einar Arthur Snekkenes (2019). Observational measures for effective profiling of healthcare staffs? security practices
Courses attended:
Events attended with COINS funding:
COINS summer school, Zoom, Zoom, 2021
COINS PhD student seminar 2020, Zoom, Zoom, 2020
NISK 2020, Zoom, Zoom, 2020
NISK 2019, Narvik, Norway, 2019
COINS PhD student seminar 2019, Narvik, Norway, 2019