Welcome to the COINS summer school 2017 on Secure Implementation of Cryptographic Software
The COINS summer school is a one week intensive course for Ph.D. students in computer and information security and in related fields. In 2017 the summer school is offered at the UiA study centre in Metochi on Lesvos island, Greece.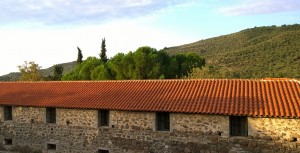 The topic of the summer school is currently being discussed.
The COINS summer school 2017 will host a range of lectures by thought leaders and experts in the area of ensuring security and correctness of the implementation of cryptographic algorithms.
Important dates:
Summer school: Sunday 27/8 to Sunday 3/9
Location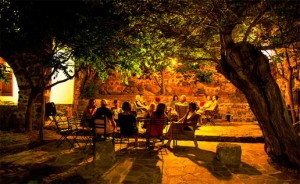 The University of Agder's (UiA) study centre in Greece is located in a monastery annex which forms part of the well-known Limonos Monastery, on the island of Lesvos in the Aegean Sea. As a monastery annex Metochi was founded in the 16th century, and it has been renovated for seminars and study purposes in recent times. The monastery and study centre is characterized by simplicity, good opportunities for studies and reflection, and a traditional Greek kitchen. Metochi has its "agora" – a small "amphitheater" – for the good dialogue, a library for private studies, a lecture room for the good monologue, and a small courtyard and garden for thought and reflection.
Limonos, the main monastery, is a cultural centre in the Northeast Aegean. It was founded early in the 16th century, and holds great treasures from the Byzantine period. The monastery is central in the Byzantine tradition, and it was also important in the Greek people's fight for independence almost a century ago.
Lesvos is the third largest island in Greece. It is about 100 km long and 50 km wide, and has approximately 125.000 inhabitants. The surroundings are beautiful, with a diverse flora and fauna. The monastery is located in the countryside 4-5 km away from the sandy beaches of the bay of Kalloni.
Lecturers
Lejla Batina, Radboud University
Justin Cappos, New York University
Paris Kitsos, Digital IC dEsign and Systems Lab (DICES Lab), Computer and Informatics Engineering Dept (CIED), TEI of Western Greece, Patras, Greece
Mark Ryan, University of Birmingham
Peter Schwabe, Radboud University
Alexandra Weber, Darmstadt University of Technology
Titles of sessions might change while we finalize the programme.
Schedule
Sunday 27/8 Arrival to Lesvos/Metochi
Monday 28/8 Teaching
0900-0930 Information meeting
0930-1300 Session 1 – Paris Kitsos: Detection of Hardware Trojans
Lecture and lab tutorial in hardware Trojan detection, e.g. covering FPGA implementation of an algorithm with an integrated Trojan and some initial method for detection.
Please download and install the Vivado HL WebPACK on your laptop before you travel. We have Eduroam at Metochi, but many people downloading multiple GBs puts a load on the fiber cable for which it was not designed in that rural area…
1700-1900 Session 2 – Paris Kitsos: Detection of Hardware Trojans
Slides
After dinner – presentations by participants, vivid discussion
Tuesday 29/8 Teaching
0900-1300 Session 3 – Lejla Batina: Attacks on embedded crypto implementations
1700-1900 Session 4 – Lejla Batina: Attacks on embedded crypto implementations
After dinner – presentations by participants, vivid discussion
Wednesday 30/8 Teaching
0900-1300 Session 5 – Peter Schwabe: Optimizing crypto software on embedded microcontrollers
1700-1900 Session 6 – Peter Schwabe: Optimizing crypto software on embedded microcontrollers
Please download and install the virtualbox imagine and try whether the image works for you and whether it gets access to a plugged USB device (e.g., some USB stick). With this VM image, you can program some Cortex-M4 microcontrollers that will be available for a practical session.
Slides
Examples
After dinner: presentations by participants, vivid discussion
Thursday 31/8 Break/Independent Study
Friday 1/9 Teaching
0900-1300 Session 7 – Justin Cappos: Securing software development for computationally weak devices
1700-1900 Session 8 – Justin Cappos: Secure cars
After dinner: presentations by participants, vivid discussion
Saturday 2/9 Teaching
0900-1200 Session 9 – Mark Ryan: Protection of code execution using Intel SGX
Slides (1 of 2)
Slides (2 of 2)
1200-1300 Session 10 – Alexandra Weber: Approaches to Reliable Side-Channel Security
1700-1900 Session 11 – Alexandra Weber: Approaches to Reliable Side-Channel Security
Slides
Sunday 3/9 Departure
Programme committee
Hanno Langweg, COINS

Bo Sun, UiB
General chair
Hanno Langweg, COINS Scientific Director, NTNU
IMT6003 3 ECTS
Participants can register for the IMT6003 COINS Summer School course at NTNU. Successful completion is documented with 3 ECTS that can be used towards the taught component of a Ph.D. programme. COINS students can register free of charge for IMT6003. Students outside of COINS might be subject to an administrative fee. Please contact us if you are interested.
Students enrolling in IMT6003 need to actively participate in the summer school and document this participation. Documentation comprises:
A position paper on "Challenges of the secure implementation of cryptographic algorithms on resource-constrained devices". Students may choose to focus on aspects related to their Ph.D. projects, e.g. management/legal issues, interoperability, forensics, cryptography, biometrics, software security. Length: 2 pages A4, submitted as pdf to info@coinsrs.no no later than Monday 2017-08-21T2359.
Students need to ask at least one question per day and need to document the question and answer in a reflection report.
A report on the summer school, summarizing all sessions, establishing connections between the topics of the session and relating secure software to the student's own Ph.D. project. Minimum 6 pages A4, submitted as pdf to info@coinsrs.no no later than Monday 2017-09-18T2359.
Practical information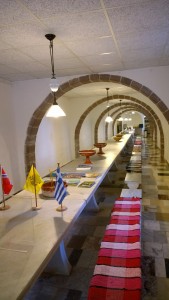 http://www.uia.no/en/centres-and-networks/metochi/practical-information
Metochi Study Centre is located in a monastery dedicated to two Greek Orthodox saints, Saints Anargyroi (Kosmas and Damianos). The monastery was founded in the 16th Century as one of several annexes to the well-known Limónos Monastery. The monasteries are connected by a stone path from the same time period, stretching two kilometres over the hills. The annex Metochi has been restored in recent years, but is still characterized by its original simplicity.
Metochi study centre houses 25 bedrooms, 13 showers, 9 toilets, auditorium/lounge, library/reading room, dining hall, courtyard and churches. The conditions are simple with bedrooms for 1-4 persons in old monk cells. The bedrooms are modestly equipped.
(If you prefer to stay in a hotel, you can do so in Kalloni, e.g. at Hotel Malemi. Please note that COINS does not cover hotel accommodation outside of the study centre and that you would have to organise your own transfer between hotel and the study centre.)
The monastery is situated in the countryside by the bay of Kalloni, approximately one hour's drive from the airport. The nearest town, Kalloni, is 3 km from the monastery. Kalloni is a local trading centre with banks, a post office, medical assistance, pharmacies and different shops. The sandy beaches of the bay of Kalloni are at a distance of 4,5 km from Metochi. By the beach is a small fisherman's village, Skala Kalloni, with hotels, taverns, restaurants and bars. The landscape between the monastery and the villages is flat and well suited for bike rides.
The monastery is not in daily use by the church, but there are still restrictions as to activities and clothing. Participants are advised not to wear clothes equivalent to bathing outfits within the monastery walls. While visiting the main monastery Limónos, shoulders and knees should be covered.
Regular standard: Breakfast (0800-0900), lunch (1300-1400) and dinner (warm meal, 1900-2000) is included, with beverages (juice and wine) during the meals. The participants are provided with sheets (but not towels).
We recommend bringing a flashlight for dark nights and a sunhat for use during bike rides and excursions.
The participants are responsible for being covered by their own travel insurance. Those who have a European Social Security Card should bring it.
There is internet access and eduroam most places at Metochi.
Special diets
The kitchen at Metochi will, as far as possible, make alternative dishes for vegetarians and guests with allergies. It is not possible to obtain gluten-free bread locally, so guests with gluten allergies are requested to bring their own bread or crackers. Gluten-free options for breakfast are yogurt and honey, for lunch salad and cheese. It is possible to make a gluten-free dinner option. Gluten-free dessert will usually be fruit. Please contact the course-coordinator before the start of the seminar if there is a need for special diets or a vegetarian diet. Guests who require special diets may contact the office staff at the start of the course to review the menu.
Arrival
Arriving at the monastery, cars might not be able to drive all the way to the entrance gate because of the narrow roads. The participants must therefore be prepared to walk for approx. 5 minutes with their luggage. If the arrival is scheduled after dark, having a small flashlight available will be helpful. If the arrival is after 20:00 sandwiches and drinks are served, otherwise dinner is served at 19:00-20:00. The Metochi information meeting usually takes place in the lecture room at 09:00-09.30 the day after arrival. Bike rental by a local partner can be arranged.
Getting there
There is a direct flight out of OSL 0600 on 27/8 with arrival 1035 at MJT, departs 1135 on 3/9 and arrives OSL 1415. That trip is sold by Apollo: www.apollo.no.
1925-2020 ATH to MJT seems to be a practical and popular option for those connecting via Athens. Those arriving late usually come in with the 2130 plane from ATH.
Please let us know when you are going to arrive so that we can arrange for transfer from MJT airport to Metochi.
It takes approximately one hour to get to Metochi from the airport. We envision to have common transfer for participants arriving within the same time window. Let us know in the registration from when you plan to land.
Check-out in Metochi is planned to happen right after breakfast so that the rooms can be prepared for the next group arriving on the same day.
Funding
COINS students/faculty: COINS covers travel and accommodation using the least expensive practical alternative. COINS will book hotel rooms in Athens. You need to pay for travel and will be reimbursed later following the usual procedures. The hotel in Athens and the Metochi study centre are being paid for by COINS centrally. Depending on the total number of participants, students may need to share rooms (though most probably everybody will have a single room). If you have preferences on sharing, please let us know.
SWITS/COINS partner students: COINS covers travel and accommodation under the same conditions as for COINS students. The offer is limited to a certain number of students. Students need to write a travel report reflecting on their experience and need to send us a picture of them wearing a COINS t-shirt in a summer school session.
Other students/faculty: COINS covers accommodation at Metochi under the same conditions as for COINS partner students, but participants have to cover their travel themselves. In addition, a fee of 300 EUR is to be paid for the week (Sunday-Sunday). If you would love to attend, but could not because of a lack of funds, please get in touch with us. We have a limited support budget for students that do research in the field and who make a compelling case on why their attendance would contribute to the summer school.