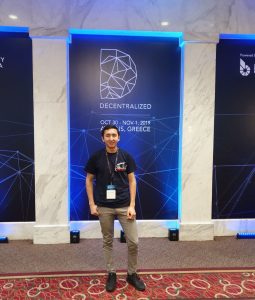 The 3rd annual Decentralized Conference, which took place in Athens, Greece, on 30 October – 1 November 2019.
Decentralized has established itself as Europe's premier conference on blockchain and digital currencies. Decentralized 2019 is one of the most popular events in Europe.
It hosted a total of 1500+ attendees, 40+ sponsors, 100+ speakers, 20+ exhibitors, 30+ media partners and attendees from 50+ countries. It was truly a global event with a focus on blockchain and decentralized ledger technology.
The Decentralized 2019 event brought the best academic experts and business executives from all around the world. They debated on future developments and current trends which were spread across three conference tracks.
Business: Business leaders and executives discussed how digital currencies and blockchain have the potential to disrupt businesses.
Technology: The professionals from digital currency and blockchain took on the latest development
Academia: The researchers discussed how the blockchain space looks exciting and share their research.
COINS supported Abylay Satybaldy to attend the Decentralized 2019 in Athens, Greece.