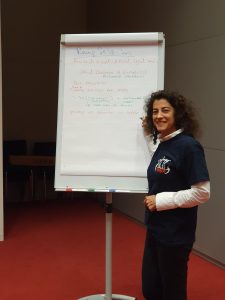 GDPR Ready through four days of in-person classes that included the IAPP's European Data Protection and Privacy Program Management training.
IAPP faculty with academic and practice experience taught the essentials of envisioning, designing and executing a comprehensive privacy management program within GDPR requirements. Classes covered pan-European and national data protection laws, key privacy terminology, and the practical concerns around personal data protection and trans-border data flows. They equipped to monitor compliance, manage internal data protection activities, train data processing staff, conduct internal audits, and more.
With the GDPR now in effect, companies are searching for DPO candidates with the requisite knowledge and skills. These training programs were based on the body of knowledge for the ANSI/ISO-accredited Certified Information Privacy Professional/Europe (CIPP/E) and Certified Information Privacy Management (CIPM) certifications.
COINS supported Elahe Fazeldehkordi to attend the GDPR course in Brussels, Belgium.