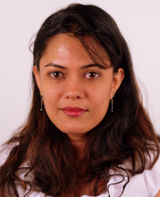 Sandra Khan
Ph.D. started in: 2011
Expected year of graduation: 2015
COINS consortium member: Norwegian University of Science and Technology
Supervised by: Stephen Wolthusen
Research area: Models and Protocols
Project title: Active Adversary Modelling
Project description: Critical Infrastructure has a unique dependency and inter-dependency characteristic. A failure in one infrastructure, for example, the power grid, has a ripple effect in bringing down other dependent infrastructure. Critical Infrastructure Inter-dependency Modelling and Analysis for random failures is well developed. However, CI is increasingly under pressure from malicious cyber attacks. Modelling intentional attacks is therefore also necessary. Incorporating Active Adversaries into CI Inter-dependency modelling and analysis is a challenging task requiring the use of large scale modelling and intentional modelling methods such as PGMs and game theory.