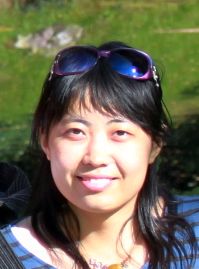 Yan Li
Ph.D. started in: 2011
Expected year of graduation: 2017
COINS consortium member: University of Oslo
Supervised by: Ketil Stølen, Ragnhild Kobro Runde
Links:


Research area: Security Management
Project title: A lightweight security risk management approach for web applications and an industrial guideline
Project description: The objective of my research is to provide a useful and light-weight security risk analysis method for web application that is practically applicable. I aim to introduce an integrated methodology for risk analysis and security testing which can be carried out continuously as an integrated part of the business process.
To achieve the objective, I have made four artifacts, each of which play an important role within such a method:
1. Combination of testing and security risk analysis;
2. A pattern language approach of security risk analysis for web application;
3. Evaluation of security risk modelling methods;
4. Method application in industry.
Publications:

Shaukat Ali, Yan Li, Tao Yue, Man Zhang (2017). An Empirical Evaluation of Mutation and Crossover Operators for Multi-Objective Uncertainty-Wise Test Minimization
Katsiaryna Labunets, Yan Li, Fabio Massacci, Federica Paci, Martina Ragosta, Bjørnar Solhaug, Ketil Stølen, Alessandra Tedeschi (2015). Preliminary Experiments on the Relative Comprehensibility of Tabular and Graphical Risk Models
Gencer Erdogan, Yan Li, Ragnhild Kobro Runde, Fredrik Seehusen, Ketil Stølen (2014). Approaches for the combined use of risk analysis and testing: A systematic literature review
Gencer Erdogan, Fredrik Seehusen, Yan Li (2013). An Evaluation of a Test-driven Security Risk Analysis Method Based on an Industrial Case Study
Yan Li, Ragnhild Kobro Runde, Ketil Stølen (2013). Towards a pattern language for security risk analysis of web applications
Gencer Erdogan, Yan Li, Ragnhild Kobro Runde, Fredrik Seehusen, Ketil Stølen (2012). Conceptual Framework for the DIAMONDS Project
Yan Li (2012). Conceptual framework for security testing, security risk analysis and their combinations
Mark Thomas Crowley, David Murrell, Nishant Patel, Magnus Breivik, Chang-Yi Lin, Yan Li, Bjørn-Ove Fimland, Luke F. Lester (2011). Analytical Modeling of the Temperature Performance of Monolithic Passively Mode-Locked Quantum Dot Lasers
Yan Li, Magnus Breivik, C.-Y. Feng, Chang-Yi Lin, Nishant Patel, William Zortman, Mark Thomas Crowley, Luke F. Lester (2011). A low repetition rate all-active monolithic passively mode-locked quantum dot laser
Elin Thygesen, Marthe M. Fosse Fensli, Ragnhild Skaar, Hans Inge Sævareid, Yan Li, Rune Werner Fensli (2011). User requirements for a personalized electronic community for elderly people with risk of marginalization